It's no secret that lumber prices skyrocketed with the rise of COVID-19—in fact, lumber prices are up a whopping 280%. Of course, consumer demand has rapidly increased as well and continues to do so, putting the housing marketing and building material industry in constant limbo.
Many are wondering—can lumber be replaced for something more affordable to combat the sudden increases? Fortunately, the answer is yes! Although lumber prices are going up, there are lots of different alternatives, such as foam. Foam is affordable, long-lasting, and has endless possibilities when it comes to design aspects in a home. What more could you ask for?
Benefits of Using Foam
Foam might not be as well-known as traditional lumber, but it has many of the same benefits—the biggest one being affordability (especially right now!). Although affordability is probably the most attractive benefit to builders right now, foam has many other perks when it comes to building.
Easy Installation
Foam can be cut into any shape you need, making it easy to use in your construction project. A big benefit with foam that you won't find with lumber is that it is lightweight and can typically be hand-carried by workers on site, eliminating heavy equipment. Once the foam is installed, there is no virtually no maintenance required.
Affordability and Consistent Costs
Here's a fun fact that will make you jump for you: by using foam instead of lumber and steel, you can reduce your project's costs by 25% to 30%! (No, we're not joking.) Overall, foam is a more affordable product to use in construction because of its lightweight material—this means that it costs less money for fleet expenses and delivery charges.
Lumber prices are only continuing to rise, but the cost of foam tends to always stay consistent, allowing for more accurate estimates when planning for a project. If you're looking to cut some costs, foam is for you.
Endless Design Possibilities
Who doesn't love design? Possibly the most exciting benefit of using foam is that there are so many different design possibilities! The following is a list of all the materials you could use foam for:
Stucco, window, and door trims,
Rom shapes,
Faux beams and wood beams,
Door toppers and entries,
Crown moldings,
Columns and arches,
Window cornices,
Fireplace mantels, and
Mailboxes.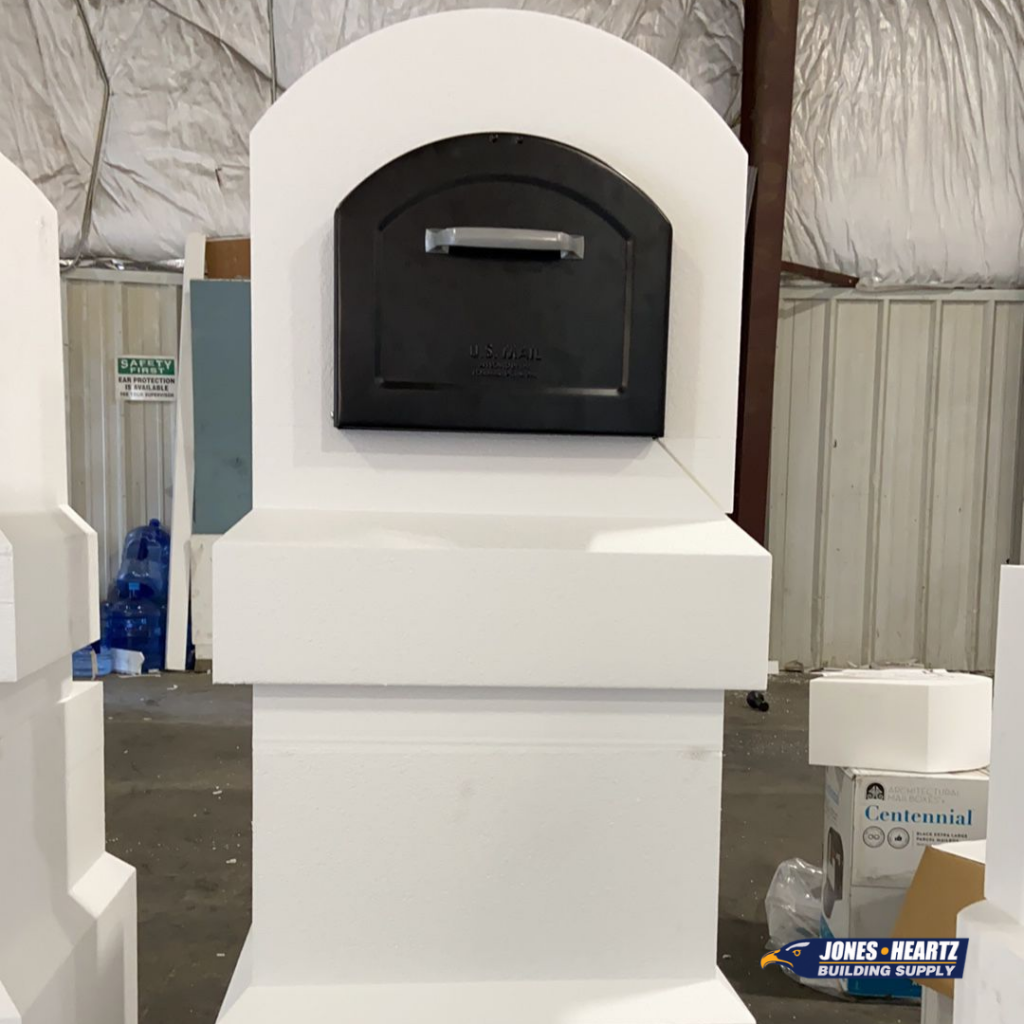 As you can see above, there are literally endless opportunities for using foam for your project. For more creative ideas about how you can use foam in your build or remodel, contact your local Denver foam expert at Jones Heartz or browse our past jobsites.
Durability
Not only is foam affordable and easy to install, but it also is extremely durable. In fact, when foam has finishing material on it, it becomes one of the most durable materials in the industry. This is because foam will not rot, so it is not subject to erosion—it can also sustain harsh weather conditions, which is great for snowy Colorado winters.
Start Saving on Your Project Today with Foam
If you're not already convinced that foam is the perfect material for your project, give us a call to speak with a foam expert on our team.
At our foam shop, we can cut foam into any shape and size you may need—when we say any shape, we mean ANY shape. We have cut foam in the shape of a company logo and even a Colorado Rockies logo! We have also been involved in various residential projects using our foam, making Jones Heartz Denver's experts when it comes to foam construction.
There are endless possibilities when it comes to using foam. Contact us today to learn how you can use foam to its maximum potential.